We work with Suppliers who share Our Commitment to Excellence
We work together with our supply partners with trust, transparency and constant communication. We strive to improve United Kingdom's food supply chain by introducing Greece's excellent food products and brands.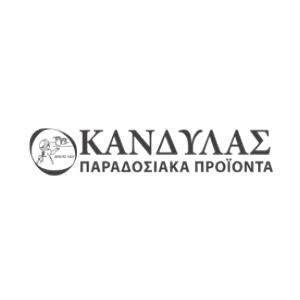 Kandylas
TRADITIONAL PASTA, JAMS & SWEET PRESERVES, HALVA & TAHINI, LOUKOUMS & TRADITIONAL PASTRIES, HOME BAKING PRODUCTS
S. KANDYLAS SA is a fourth generation Greek producing company making traditional products. Our facilities are located at Veria, a small city at Northern Greece.
We are a family business having a 30 people in our manpower, all together in a friendly environment.
Our main goal and philosophy is good quality. Due to our respect for the consumers and our clients, we are obligated to create quality products as good as possible.
That is why in our production line we use only the best possible raw material and in combination with our modernized production line and our years of knowledge on traditional prod- ucts, we can guarantee a tasteful Greek quality product.
Our main products are Halva, Tahini, Jams, sweet preserves, syrup pastry and more.
These last years KANDYLAS SA is following today's world's food habits and we have innovated and created products that fit in healthy and sports diets, fit in breakfast family tables, lunch break snacks and healthy night snacks.