We work with Suppliers who share Our Commitment to Excellence
We work together with our supply partners with trust, transparency and constant communication. We strive to improve United Kingdom's food supply chain by introducing Greece's excellent food products and brands.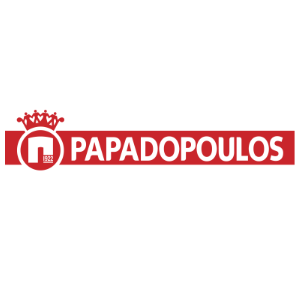 Papadopoulos
BISCUITS & COOKIES, RUSKS & BREADSTICKS, CRACKERS & SNACKS
Papadopoulos is the leader in the biscuit industry and a strong player in the bread substitute segment (Rusks, Breadsticks, Krispies). More specifically, the company ranks second in the overall rusk market and is a leader in the category of premium rusks.

Fostering a spirit of innovation and growth, along with a pioneering outlook, the company continues to expand into new product categories! In 2011, the company created a revolutionary product in the field of cereal bars, the Digestive Bar, the first ever cereal bar to be made with biscuits. In 2013, the company extended its presence in the Greek market with the launch of packaged sliced bread.

It has 3 sales departments across Greece, and specifically in the cities of Athens, Thessaloniki and Volos. Product distribution, at the rest of the country, is handled by a network of local partners.

A total of 200 sales representatives and merchandisers work in the field each day, along with a number of wholesalers, in order to ensure the wide distribution of the company's products.